Good Health & that Nature Feeling
Find strength in, and from nature, right outside your front door …
Simply open the door, set out and reenergize,
thanks to unforgettable nature experiences with lasting benefits. Sense for yourself the mystical sources of strength located close to our chalets.
Space to BE
For your personal balance …
we invite you to participate in our numerous all-inclusive wellness programs:

For a small additional charge: massages and other wellness treatments in your own "realm"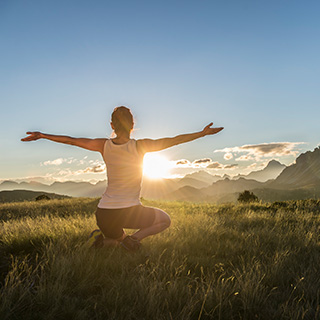 "Listen carefully and try to understand what your body is telling you!"
Free movement helps to compensate for one-sided physical bias in daily life. We will be taking a walk from our farm to the Kofler Moos leisure area and by and by, as we wander along, we will stop off for some body and breathing exercises.

As we breathe in the pure, invigorating air, we will capture the images of endless natural beauty with all our senses – and while doing so, we'll feel refreshed and fit, improve our health and bolster our sense of wellbeing.

We will lay our exercise mats out in the open air and carry out strengthening exercises for our back, abdomen, legs, buttocks and upper body.
Next we will stretch and release our muscles, tendons and ligaments as we walk back to our starting point.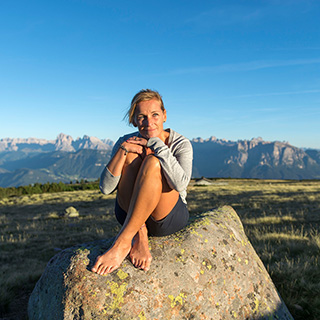 Our wellspring of energy: "The Wasserbühl"
Since time immemorial, people have sought out sites of high energy to replenish body and soul.
These mysterious cup-stones are just a 10-minute walk from our farm. As you walk towards them, your feel a heightened sense of energy and wellbeing with every step you take.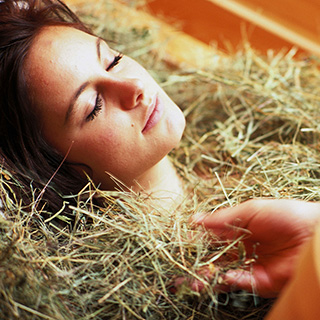 Pastor Kneipp hay flower sachets
Rosamunde will prepare a warm, damp herbal sachet filled with our countless hay flowers for you. When applied to a specific part of the body, it takes around 45 minutes for the essential oils to work their magic. After this time has passed, the heat will have evaporated the essential oils, and the hay sachet can be removed. This reflex treatment releases tense back muscles and helps to detoxify the body during a therapeutic fast. Soothing background music enhances the effect of the treatment.
Südtirol Balance – A break in South Tyrol
Sometimes you need a little break to garner the strength to face everyday life. Südtirol Balance makes this break a reality. Experts help you slow down and relax at special retreats on your mini break. On breaks at rejuvenating spots in the natural landscape of South Tyrol, participants will learn to re-focus on what is essential, to ground themselves and to enjoy the moment with mindfulness.