Good Health & that Nature Feeling
Find strength in, and from nature, right outside your front door …
Simply open the door, set out and reenergize,
thanks to unforgettable nature experiences with lasting benefits. Sense for yourself the mystical sources of strength located close to our chalets.
Space to BE
For your personal balance …
we invite you to participate in our numerous all-inclusive wellness programs:

For a small additional charge: massages and other wellness treatments in your own "realm"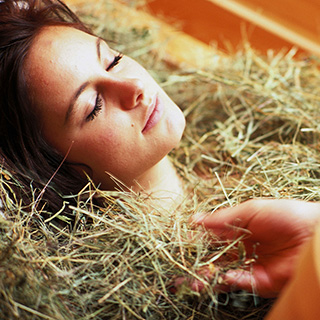 Kneipp - hey flower sachets
Relaxation with hey flower sachets, very effective in the opinion of priest Kneipp
With our big variety of hey flowers we will prepare a hot-humid sachet to be applied on different parts of the body for about 45 minutes. In this time the thermic energy will bring essential oils to evaporate; after this the sachet can be removed. This will not only help to release uncomfortable tightness in the back muscles but will also have a detoxing effect during our therapy fast. The treatment is enhanced and accompanied by background music. 
Südtirol Balance – A break in South Tyrol
You need a break every now and again so you can rest and recharge ready for everyday life. Südtirol Balance makes this break a reality. Experts help you slow down and relax at special retreats on your mini break. On breaks at rejuvenating spots in the natural landscape of South Tyrol, participants will learn to re-focus on what is essential, to ground themselves and to enjoy the moment with mindfulness.